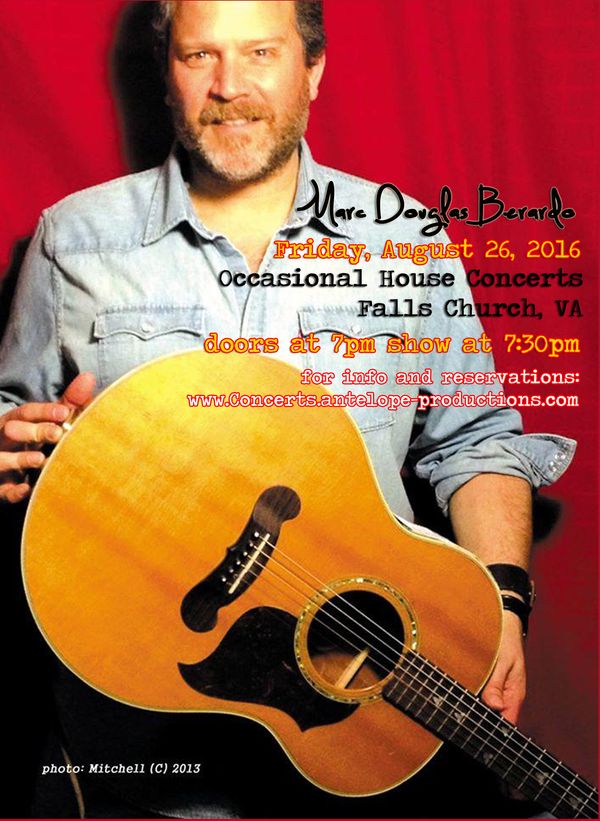 Marc Douglas Berardo 
Friday, 26 August 2016, doors 7:00PM/show 7:30PM 
Marc Douglas Berardo is the kind of hard working, fast moving, adventure seeking, keen observer who lives for the story and the song. In what amounts to song length works of fiction, Berardo's sharply drawn, award winning song portraits cast a net on unusual and beguiling characters and places. With a painter's eye for detail, and music firmly rooted in the great American sound, Berardo sings about circus retirees, expatriates in Florida rum bars, union iron workers, old poets, aimless New York City debutantes, near death car crashes, hard nosed fishermen and of course, the changes that experience brings to everyone. He does this "simply and well" with what Rambles Cultural Magazine calls: "careful images and great tunes." 
"I try to write about people and situations that interest and entertain me. Subjects and places that I feel a connection with and that are unique in a quiet way. Real people and places caught in the moment, almost like a documentary film or a novel. At the same time, I need the music itself to take me somewhere…to make me feel something. The words have to sing and the music has to work. The kind of song that does those things is my idea of a good time." 
Berardo's fifth CD entitled WHALEBONE was released in September 2013. Recorded in NYC, Woodstock, NY and rural Connecticut and produced by Brother Chris Berardo, Whalebone is a supremely crafted collection of songs about change, reemergence, strength and survival. Guests include the legendary Jon Pousette Dart (The Pousette Dart Band), Abbie Gardner (Red Molly), Lincoln Schleifer (Rosanne Cash, Richard Shindell, The Allman Brothers Band, Govt Mule, Donald Fagen). 
In May of 2014, Berardo won the 2014 Wildflower Art and Music Festival Song Contest in Texas. The following week he performed as a finalist in the legendary Kerrville New Folk Contest at the Kerrville Folk Festival. In early 2015, Berardo's feature appearance on Sirius/XM Satellite Radio's The Village was voted one of the best of the year by listeners. 
Website: Marc Douglas Berardo 
Suggested donation: $20 
RSVP: concerts@antelope-productions.com 
(Address and details with reservation.)