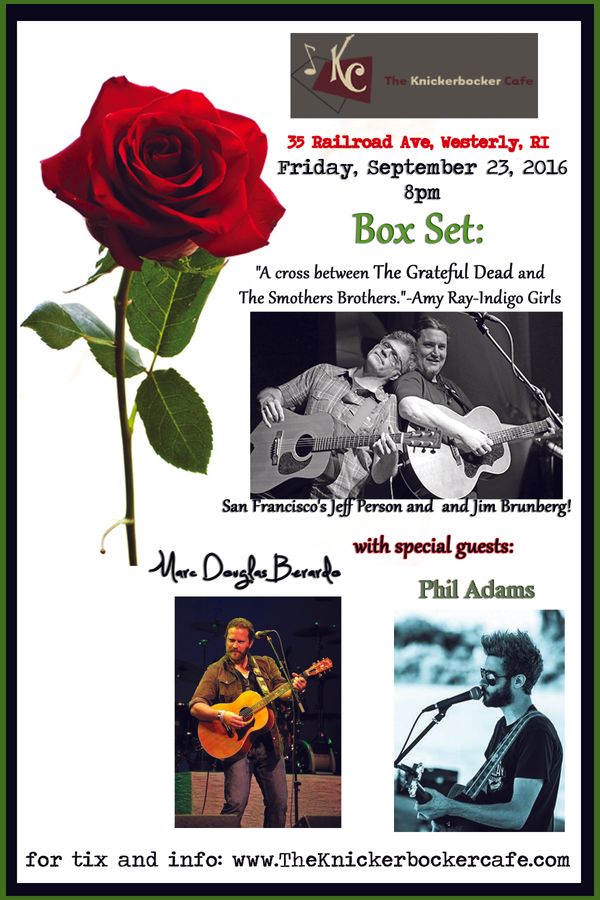 Friday, September 23 at 8 PM - 11 PM

BOX SET: 
Jim Brunberg and Jeff Pehrson met in a San Francisco cafe 22 years ago, and almost immediately fell into a musical relationship. That connection has been responsible for 12 albums of original music, thousands upon thousands of miles on the road, a handful of awards, several ill-fated record deals and two houses built of broken B strings. Jeff Pehrson is an American singer-songwriter who performed backing vocals for Furthur, a band that includes two former members of the Grateful Dead, Bob Weir and Phil Lesh. Pehrson also has recently been touring with Jorma Kaukonen and Hot Tuna singing background vocals and lead vocals on the Jefferson Airplane sets. His own two bands, The Fall Risk, which he founded, and Box Set, a folk rock band he co-founded with Jim Brunberg are acclaimed for their exquisite vocal harmonies and guitar work. The Box Set Duo has been entertaining audiences these many years with their powerful songs, brought to life by inspired guitar interplay and vocal harmonies that warm the senses. Amy Ray of the Indigo Girls once described them as "a cross between the Grateful Dead and The Smothers Brothers". A longtime Bay Area favorite, the Box Set Band will engage your heart, bust your sides and leave you with a song on your mind. 
Marc Douglas Berardo: 
Rhode Island based Marc Douglas Berardo is a hardworking, fast moving, adventure seeking, keen observer who lives for the story and the song. He has been nationally recognized for his music and performances (Rocky Mountain Folks Fest Song contest, Telluride Troubadour Contest, Sisters Folk Festival, 2013 Rams Head Onstage Rammie for Show of the Year.) No Depression Magazine called his latest CD Whalebone: "a highly polished personal collection with songs that are on the delicate trapeze of poignancy." In May of 2014, Berardo won the 2014 Wildflower Art and Music Festival Song Contest in Texas. The following week he performed as a finalist in the legendary Kerrville New Folk Contest at the Kerrville Folk Festival. In early 2015, Berardo's feature appearance on Sirius/ XM Satellite Radio's The Village was voted one of the best of the year by listeners. 
Phil Adams: 
A Westerly local, best known for his work with acoustic duo "The Choos", and Funk/Rock/Reggae band; Phil & The Line, is stretching out and bringing some brand new music to life with live loops and heartfelt, intimate, performance. His funky guitar playing and smooth vocals will leave you mesmerized and satisfied. 

The Knickerbocker Cafe, 35 Railroad AVe, Westerly, RI
For tix:
www.The knickerbockercafe.com