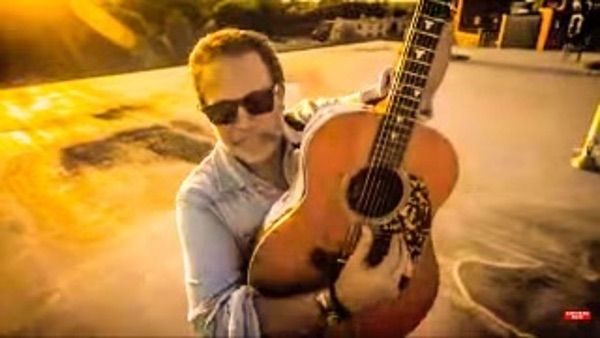 Hello Song Enthusiasts, 
Once again I write to you from Block Island to tell you the good news that the second single "Waiting on a Brand New Day" from my upcoming record will be released today, August 26.   The recording is an upbeat and hopeful arrangement for the end of summer. 
Americana Highways premiered the video for "Waiting on a Brand New Day" on August 24th.  I hope you will like, follow, pre-save, and subscribe to my Music Sites. It is also available to download from my Website You can also view the video on my YouTube channel 
I wrote the song a few years back at the tail end of a period of personal upheaval. The lyric endeavors to capture two singular moments in time for the characters of the song as they sit on the roof of an apartment building looking off into the night in which the "lights looked like Paris". The second happens on a summer night on an island with a view of the mainland as 'the fire on the beach kept us warm. In those moments the narrator does not want to break the spell of their newfound connection. He simply finds comfort in the metaphor that there is nowhere else that he'd rather be as they wait on a brand new day. The music is meant to have the galloping feeling of new love and the excitement of changing times. The whole thing just about wrote itself. 
I recorded the song in Woodstock, New York at Mark Dann Studios. Brother Chris Berardo and I produced the track The musicians include the legendary drummer Eric Parker (Joe Cocker, Orleans), Mark Dann (John Gorka, Richie Havens) on bass, and the mysterious and highly regarded Dr. Westchesterson on piano and organ. 
The video was filmed on location in Westerly, RI, and Block Island, RI, by DSC Studios in Pawcatuck, CT. Dan Corbett from DSC Studios and I edited the video in June 2022. The principal photography is by Joshua Behan of Westerly, RI. To celebrate, I will join my good friend and favorite dobro player Abbie Gardner at One Longfellow in Portland ME.  You can find info and buy tickets on their Website.
When all is said and done there is really nowhere else I'd rather be than with you here tonight, 
MDB 
Block Island, RI 
8/26/22