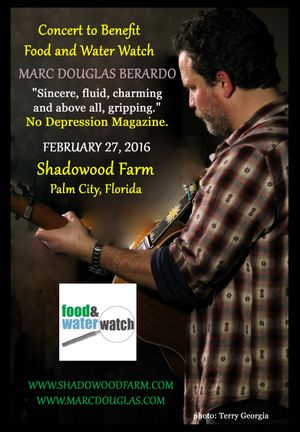 Marc Douglas Berardo Concert, Benefiting Food & Water Watch 
 TO SUPPORT A VERY WORTHY CAUSE ON SATURDAY, FEBRUARY 27th, 2016

Rhode-Island-based singer/songwriter Marc Douglas Berardo is a hardworking, fast-moving, and adventure-seeking observer who lives for the story and the song. In 2015 Marc escaped from the cold to give a warm and wonderful concert at Shadowood. This year he's coming back again to share his gifts with us and for the benefit of Food & Water Watch. 
Marc has been recognized nationally for his music and performance. No Depression Magazine called his latest CD Whalebone "a highly polished personal collection with songs that are on the delicate trapeze of poignancy." To hear a sample of his music (and one of our favorite MDB songs), click here. 
THE DETAILS 
When: Saturday, February 27th, 2016 
Where: Shadowood Farm in Palm City 
Ticket Option #1: $28 per person for the concert only; arrive at 7:15 pm for concert and dessert only. Dessert will be served at intermission. 
Ticket Option #2: $50 per person for the farm-to-table dinner and the concert. The organic, GMO-free menu will be prepared by Chef Bob Statler of Food Island (with assistance from Shadowood gardeners). The super-fresh meal is sure to provide something delicious for everyone including vegans and gluten-free people. Arrive at 6 pm for dinner and concert. Dessert will be served at intermission. 
Food & Water Watch is working around the state and throughout the nation to protect our food and water resources through their efforts to ban fracking and mandate GMO food labeling. A portion of each ticket sold will go directly to Food and Water Watch Florida. The more tickets we sell, the higher the donation percentage will be to the organization. Spread the word! Invite your friends and tell your neighbors.

All info here:
SHADOOOD FARM