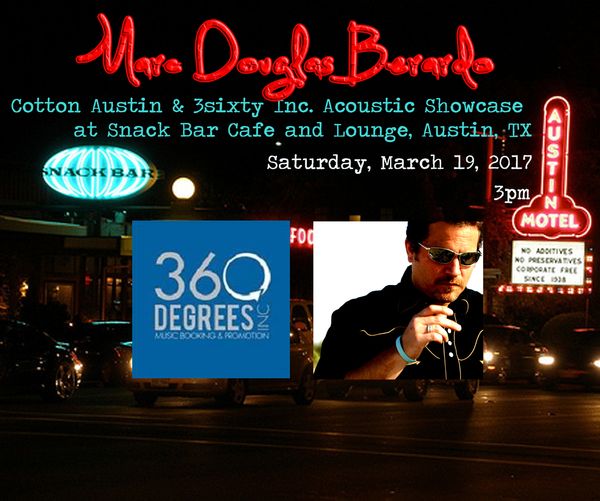 This three day showcase will be the best thing you could put your eyes on in Austin, Texas March 17-19 during SXSW. Lots of top notch performers. I am lucky to be performing solo 
on Saturday at 3pm right before the great Jimmy Davis. Tell your friends.
An ATX Spring festival of 3 days and nights of acoustic music featuring some of Americana's best and brightest talents in the heart of South Congress, one of Austin's best known and coolest music districts, at the retro and modern Snack Bar Cafe & Lounge adjacent to the revered Austin Motel. Marc Douglas Berardo on Saturday at 3pm. 
Thursday, March 17th 
12 pm: The Surreal McCoys 
1 pm: Falling Doves 
2 pm: Tyne Darling 
3 pm: The Accidentals 
4 pm: Jess Klein 
5-8 TBA 
Friday, March 18th: 
12 pm: Sol Patch 
1 pm: Lewis & Martin 
2 pm: Suzanne Sherwin 
3 pm: Walt Wilkins 
4 pm: Chris Berardo Acoustic Trio 
5 pm: Eric Hisaw 
6 pm: Amy Black 
7-8: TBA 
Saturday, March 19th: 
12 pm: TBA 
1 pm: Shannie 
2 pm: Shurman 
3 pm: Marc Douglas Berardo 
4 pm: Jimmy Davis 
5 pm: RJ Comer 
6 pm: Bonnie Whitmore 
7-8 TBA