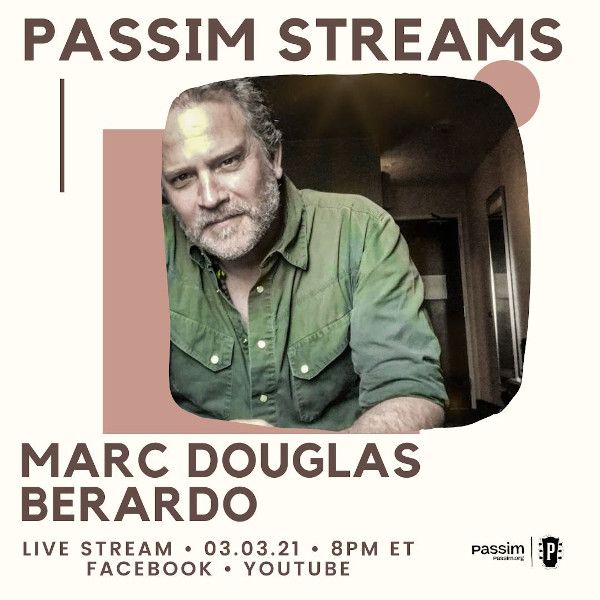 "You should never hesitate to trade your cow for a handful of magic beans."  -Tom Robbins, Novelist/ Provocateur 
Dear Friends, 
Look at us. We are still here. Still hanging on. Amazing. After a full year of trouble and change we have made it this far. From where I stand our bond is strong and the future looks good. No matter what tomorrow brings, something will happen. Onward. No fear. 
You gave me a great gift. That gift was the opportunity to see my value and purpose to a community of open minded lovers of song and camaraderie. Our Wednesday nights together and our once a month Harbor Songs gathering online Are a stone joy. Between Facebook live and YouTube we average about 50 to 60 souls who tune in every week with no other expectations except good company and songs. One year ago on this day as we all stood on the precipice of looming trouble in the world, I wondered if there was even a future for me. You gave me the answer. I traded in my cow and you gave me some magic beans. Thank you. 
Stay with me. Good things coming. First: this Wednesday, March 3 I will be doing an online show at 8 PM Eastern standard time. This particular show will be hosted by the fabled music venue CLUB PASSIM. You'll be able to view the show on Passim's Stream's YouTube and Facebook live. Just like a normal Wednesday. 
Passim has operated from a location in Cambridge Massachusetts for just over 50 years (for 10 years before that it was operated under the name Club 47). Artists who have performed there include Joan Baez, Shawn Colvin, Tom Rush, Joni Mitchell, Suzanne Vega, Muddy Waters ,Jimmy Buffett, James Taylor, Bonnie Raitt. A young Bruce Springsteen was turned down by the club. Don't worry, he ended up doing OK. 
Over the years I have performed at the club with folks like Cliff Eberhardt, Red Molly, the Low Anthem and Pierce Pettis. Good stuff. 
I will be performing this virtual show co-hosted by my friends at Club Passim. Please help me support the club during these troubling times. Places like passing them are essential to the traveling songwriter and to the world in general. 
In other news, I recently was interviewed and performed on for my friend Matt Zako on The City's Backyard program. It was a lot of fun and is available for you to listen to on Spotify, Apple Music and some other services. My portion of the program starts at about 31 minutes to him. 
On March 27, on my third installment of Harbor Songs online, I will be joined by New England favorites: The Carleans. If you don't know who they are (or if you already do) please tune in. I have very good Las Vegas odds that you will be a ginormous fan before the broadcast is over. 
There are other plans of foot for the near future including the release of a music single on all of the streaming services, a slow return to full dimensional performing and a bag full of new songs. 
Visit my tour page for more details. 
Until then, thank you for your friendship. I am lucky to know you. 
(I have attached a track from the Live at Ramshead Onstage (2014) CD with Bob Sima...It's a hoot!) 
MDB 
Westerly, RI 
3/1/21 
To download the track "It's Love" for free, go to https://marcdouglas.com/dl and enter the code abcd-1234