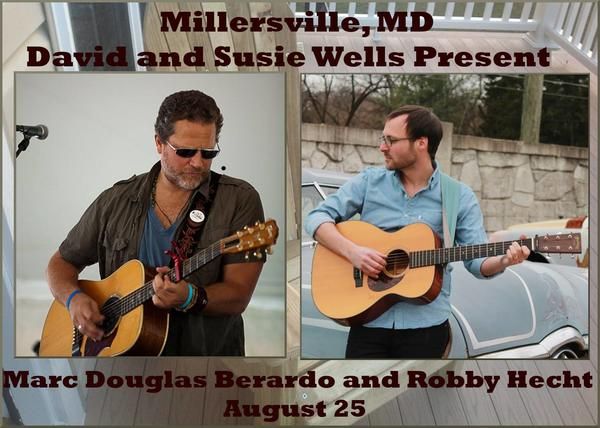 All are welcome to join David and Susie Wells in their home for an evening of songs with two very fine artists Marc Douglas Berardo and Robby Hecht.  
Doors Open at 7:00pm 
$20.00 Suggested Donation 
Bring appetizer or dessert to share - BYOB 
RSVP via email: susieshcs@aol.com 
Call or text David at 443-995-7355 or Susie at 301-509-7492 for more info. 
------------------------------------------------------------------------------------ 
Rhode Island based Marc Douglas Berardo is a hardworking, fast moving, adventure seeking, keen observer who lives for the story and the song. He has been nationally recognized for his music and performances (Rocky Mountain Folks Fest Song contest, Telluride Troubadour Contest, Sisters Folk Festival, 2013 Rams Head Onstage Rammie for Show of the Year.) No Depression Magazine called his latest CD Whalebone: "a highly polished personal collection with songs that are on the delicate trapeze of poignancy." In the past year alone, he has shared the stage with heavyweights such as The Doobie Brothers, The Pousette Dart Band, Red Molly, John Haitt, The New Riders of the Purple Sage, Lucy Kaplansky and Livingston Taylor. As a member of Chris Berardo and The DesBerardo Band with his brother Chris, Marc has been a part of shows with classic rock acts including Little Feat, The Marshall Tucker Band, Foreigner, Badfinger, Reckless Kelly, America, David Allen Coe, Levon Helm, Dickey Betts and Great Southern and others. Berardo was the winner of the 2014 Wildflower Art and Music Festival Song Contest in Texas and also received the Michael Terry People's Choice Award. He was also a 2014 Kerrville New Folk Finalist, 2014 Solar Fest Songwriter's Showcase Selection and a 2015 South Florida Folk Festival Song Finalist. www.MarcDouglas.com 
---------------------------------------------------------------------------------- 
A proper artist struggles to influence life's signal to noise ratio. Under the right kind of concentration, the static grows quiet. The extraneous and the superficial are pared away. And precious human qualities are held still, carefully turned over and inspected for illuminating details. In Robby Hecht's case, this effort emerges as music that invites and even induces the listener to a similar place of serenity, clarity and patience. 
Across his four indie releases, Robby has distinguished himself as the second coming of James Taylor, a gentler Damien Jurado. But, whatever the comparison, it's hard to miss that his songwriting is distinct and individual. He doesn't shy from the obvious rhyme, but manages it with a delicate audacity, placing it only where it best serves the story or the mood. And, there's something about the way he unfurls a line that feels less like trying to work something out and more like just calling it what it is. 
Robby has won many prestigious national performing songwriter awards including the Kerrville New Folk, Telluride Troubadour and the Rocky Mountain Folks Festival Songwriting Competitions. www.robbyhecht.com