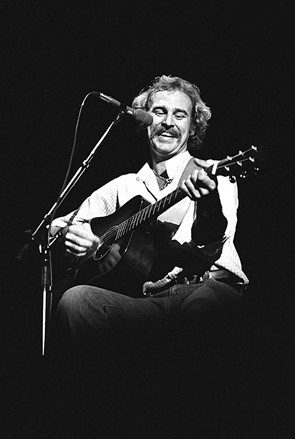 Jimmy Buffett has left us and whether you were a fan of his music or not the fact is that the world is a different place now. Buffet was, to me, a part of a long line of self-invented Americans that include legends like Amelia Earhart, Hunter S. Thompson, Jerry Garcia, F. Scott Fitzgerald, Babe Ruth, Joan Didion, Mark Twain, Guy Clark, and Frank Sinatra. His life story perfectly embodied the American ideal that hard work creates luck and joy and even prosperity. A soul can truly follow his bliss and light out for the territory with a fair chance he might find a promised land. In Mr. Buffett's case, he could do it with a bag full of songs and a feel for a story that others could only fathom as fantasy: beaches, sailboats, rock and roll, and poetry. His was the beautiful life in practice. A creation that lived in the moment and did not wait around to ask for permission. It was its own form of art.
For me, it was hard not to be captured by the simplicity of it all. I wanted the wooden guitar and the adventure. I wanted to tell a story. I wanted to live the songs I was singing. I wanted to stand at the bar with my heroes. I didn't want a job, I wanted a life. I wanted to make a living feeling things and laughing all the way. I wanted to self-create my life. I wanted the mustache. The mega success that Jimmy Buffett obtained was never the goal. It was a lottery win if you could emulate the man in some way. His life was a template. I was damn lucky to live on earth during what I believe to be the last of times when this America allowed you to give it a try. I'm still trying.
If you ever lived and played songs in Florida, or any tourist town for that matter, you developed a love-hate relationship with the legend that was Jimmy Buffett. People wanted to party and some of his songs brought them to that place. I often felt like people were glossing over the depth of his work. But people like to boogie and your job is to make them have fun. It was an occupational hazard. But boy, if you got me in a corner and started to talk about it, I could leave you blue in the face with my long-winded assessment of Jimmy Buffett songs. I truly believe his first three MCA records are a masterwork of combining the Texas singer-songwriter movement with an ocean view, casting Buffett as sort of a Willie Nelson for the coast. Jimmy Buffett brought not only his own music to the dance, but wore his influences openly: the Neville Brothers of New Orleans, the stone country music of Jerry Jeff Walker, the funky feeling of Little Feat, and and literature of Thomas Mcguane and Jim Harrison to name just a few. I think that Buffet's song A Pirate Looks at 40 is an important work and deserves a place in the great American songbook. I think his 1986 record Floridays is criminally underrated. Oh man, I could go on.
More than anything, it's going to be hard to adjust to the world without Jimmy Buffett in it. So, thank you, Jimmy, for what you gave me and so many others. I hope you find the dancing light. I'm going to miss you.
MDB9/1/23Block Island, RI