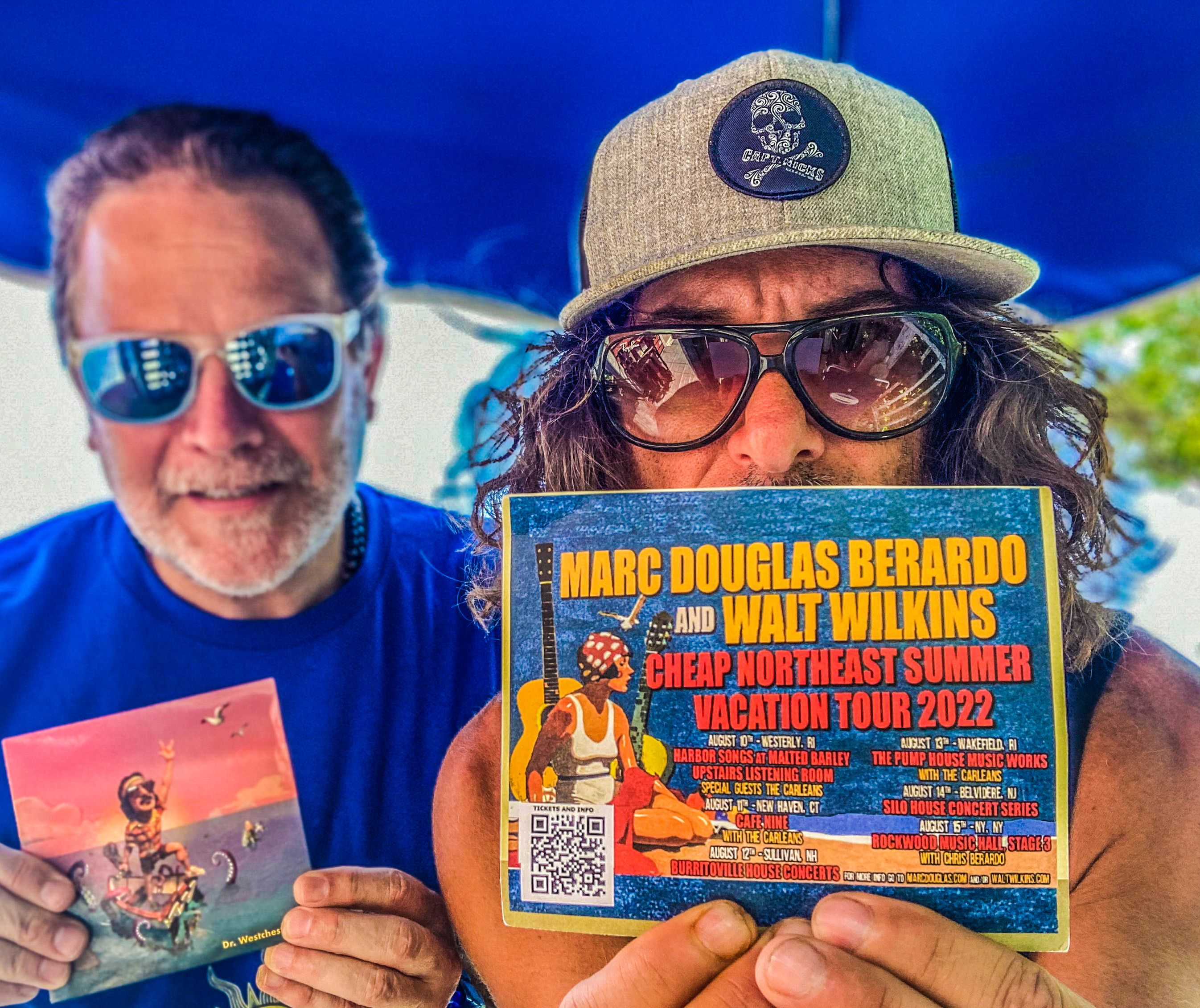 Friends, 
I am writing to you now from the small bunkhouse on Block Island. Only 9 miles off the coast of Rhode Island and my homeland of Westerly, Block Island is on the Nature Conservancy's very short list of "Last Great Places" which consists of only 12 sites in the Western Hemisphere. It's a stunning rock. A peaceful place. A green and open oasis. An Island home.  I have been singing and playing here for 25 years. It is good work and I'm lucky to have it. 
As wonderful and as lucky as all that is, I am anxious and jacked up at the idea of leaving this place to play some really fine music shows. It's time for the Cheap Northeast Summer Vacation Tour!  Who among us wouldn't enjoy a cheap vacation? 
So it's time for my great friend Walt Wilkins to come from Austin, TX, and join me and my friends The CarLeans as well as one special night with brother Chris Berardo for some good feelings and song sharing. 
First I would like to tell you about Walt Wilkins. He is an American treasure. Mike Ethan Messick wrote this about Walt in Texas Music Monthly Magazine: 
"In a modern world thick with instigators — people who seem to wake up each day and decide whether they want to get their enemies or allies the most riled up this time around — Walt Wilkins comes off as an unlikely radical. This is a man at peace, and he's gonna try like hell to get you right there with him." 
That's Walt. He is a special soul with wisdom to lay on you. 
So, we will start our tour with a Harbor Songs show in my hometown of Westerly Rhode Island on Wednesday, August 10 at the Malted Barley Upstairs Listening Room. 
My special guest will be the CarLeans. (The CarLeans' are miraculous.) We did the show last year and had so much fun there was no doubt we had to do it again. If you were there, you know. If you weren't there you should find out. 
Then it's off to New Haven Connecticut, Sullivan, NH, Wakefield, RI, Belvedere Nj, and New York City. 
The final show of The Cheap Vacation Tour will be at The Rockwood Music Hall on Monday, Aug 15 in New York City. It will be an incredibly special night as Walt and I will be joined by brother Chris Berardo. Believe it or not, it's been a long time since I've been able to play with Chris given the troubles of the last two years. He's been making some great music and I can't wait to stand up on the stage and play some of his songs as well as exchange songs with Walt. The jokes and good feelings will be flying around the room. FOR THIS SHOW YOU MUST GET TICKETS IN ADVANCE. 
Get information and advanced tickets for all shows here ==> CHEAP NORTHEAST SUMMER VACATION TOUR TICKETS. 
All of these shows will lead up to the release of my new single and video, Waiting on a Brand New Day. I'm very proud of the song and the players who made the track with me (Mark Dann, Eric Parker, Dr. Westchesterson, Chris Berardo). The video was filmed by DSC Productions on both Block Island as well as rooftops around Westerly Rhode Island. Both video and single arrive on August 26! I will be celebrating that day with a show in Portland ME at the One Longfellow Square with the jaw-dropping Abbie Gardner. More on that later! 
OK, I really do hope to see you at one of the Cheap Northeast Summer Vacation Tour shows. When I do see you I'm going to remind you that I am lucky to know you and very happy to have you as my friend. 
Here's to you, 
MDB 
New Shoreham, RI 
8/3/22 
———- 
Some other recommendations. Music is good for your soul: 
Sat 8/6 -The Nine Songwriter Show- 9:30 Club Washington, DC (check out The Sweater Set and More) 
Sun 8/7- Abbie Gardner at Bartlett Arboretum /  Stamford, CT. 
Sun 18/4 - The Young Guns /  New Shoreham, RI featuring Dr. Westchesterson 
Sat 9/10 - CT Folk Fest & Green Expo /  New Haven, CT 
Goodnight Moonshine and more. 
Check out Dr. Westchesterson's new CD Better Days Ahead on Spotify.