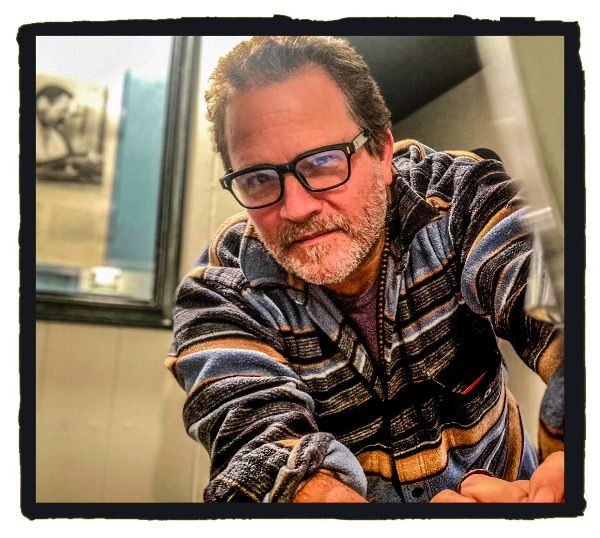 Hello Brothers and Sisters, 
February is not my favorite month. Here in Rhode Island, any snow that has fallen has lost its charm. Cold wind and dark days start to play on the mind in bad ways. If you can get yourself out and on to the frozen tundra that is the beach, The looming outline of Block Island just off the coast feels like a call to warmer days. In normal years there's more plans for music shows in warm climates. For reasons that you already know and are dealing with yourself, some of those plans have been put on hold for two years. Such is life! 
However, this February I have one little secret that makes things a lot better. This February I will release my first set of recorded music since my live album with Bob Sima from the Ramshead in 2014. The first new song since 2013's WHALEBONE. What??? I know… 
Not only is there a new "single" coming on Feb 25, but it will be accompanied by a music video! YES!!! A video just like you have seen from The Buggles and The Bangles, Madonna and The Flock of Seagulls! You want your MTV. You do!! 
The HARD PART video will have some fancy premieres! Get your red carpet wear out of storage. Retrieve that fancy gown from the dry cleaners!! It's a premiere!!  The first of which will happen on February 21. The wonderful people from Americana Highways will give it the first spin.  
You can see here at Americana Highways. 
Then a little bit later in the week (2/25 to be exact) the song and video will be featured on The Village station and web site on Sirius/XM Radio. 
On that same day, Friday, February 25 the single will be available worldwide for Download and streaming. Hooo-Ray! Flashbulbs! 
Things have changed since I last took the little hand of new music and walked it out into the world. It's an Apple Music, Deezer, Spotify, Amazon, YouTube online world. Not like the old days when we carried around a whole bunch of CDs and looked you right in the eyes when you made your purchase. Handshakes all around. Right from the source! I miss those days. 
However, I wanna play along in today's world. I will give it a go. THE VERY BEST THING YOU, THE HOME VIEWER CAN DO TO HELP ME IS TO SUBSCRIBE, DOWNLOAD AND FOLLOW SOME MORE WHEREVER YOU CAN. Press those buttons snd stream those streams. YOU CAN DO THAT HERE. Oh…and tell your friends and your enemies about it. Spread the good word. Support the folk singer. AMEN! 
Meanwhile, as a Band-Aid against the constant canceling of live shows, the often disappointing postponements and the ever-changing scene for performing songwriters like me, I continue my MDB SONG HOUR SHOWS. By February's end I will have completed 47 shows. The support that I have gotten on Wednesday nights has been crucial to my spirit. I hope you will continue to tune in. It is my pleasure to serve you. 
Further, I have some shows planned with one of my very favorite songwriters, Louise Mosrie. Even after a few cancellations and postponements, we have a few coming up at the end of this month, including one in my hometown of Westerly Rhode Island, Upstairs at the Barley. A special bonus: One of my favorite humans and fine songwriter Sandman Allen will be opening the night. All of the show details can be found on my Tour Page. 
In March I will play some shows with my great friend and spiritual advisor Walt Wilkins in Texas and join Brother Chris and the fellas at SXSW. It has been too long. 
But here is what is most important: I hope you, in whatever endeavors you undertake, are finding a way through these weird times with joy in your heart and hope for the future. These are weird times, but they are our times. I walk with you. 
MDB 
Westerly, RI 
2/9/22