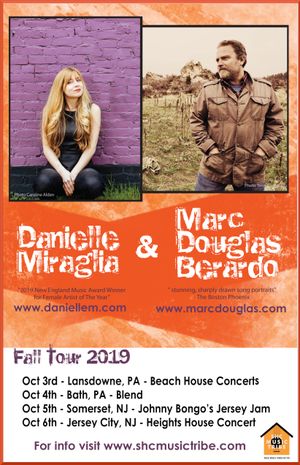 Philly, Jersey! It's a Fall romp with my great friend and 2019 New England Music Award winner for best female performer Danielle Miraglia!
 I have been looking forward to these shows all year. We are coming with our best stuff. Starts Thur 10/3
For info: www.marcdouglas.com/tour
--------
 
Danielle Miraglia (murr-Ä L e a) comes armed with a strong steady thumb on an old Gibson,an infectious stomp-box rhythm, harmonica and tunes ranging from heart-felt to socially conscious that will move both your heart and hips. 
2018 New England Music Award Nominee for "Songwriter of the Year" and "Roots Act of the Year." 
2015 Boston Music Award Nominee for Singer/Songwriter of the Year 
Mountain Stage NewSong Northeast Regional Winner! 
NERFA Formal Showcase Artist! 
RedLine Roots Big Red Favorite Local Female Songwriter! 
Honorable Mention - Telluride! 
"Straddling the line where folk/roots meets rock/blues, Miraglia has a voice that can go from a raspy come-hither purr to an Etta James-esque powerhouse belt, although she may be best known for her lead thumb — a heavy, thumping strike on her Gibson that's backdrop percussion in itself." - Lauren Daley, The Boston Globe.
web site:
https://daniellem.com/llem.com/